Treat customer fairly executive committee
The board of directors of PCA Life Assurance is actively participating in promoting the culture of treat customer fairly (TCF). We have established the TCF executive committee in the end of 2019 and discussed the culture and implementation of TCF together with the industry and academics in the 4th quarter of 2020, in order to keep our promises to treat customers fairly.
The TCF Executive Committee was established under the guidance of the board of directors. Chaired by the president, TCF Executive Committee is composed of senior management team and the head of Legal and Compliance. The committee helps cultivate the TCF culture and assures the implementation in the corporation.
In addition, each department has formed a TCF working group to roll out relative projects.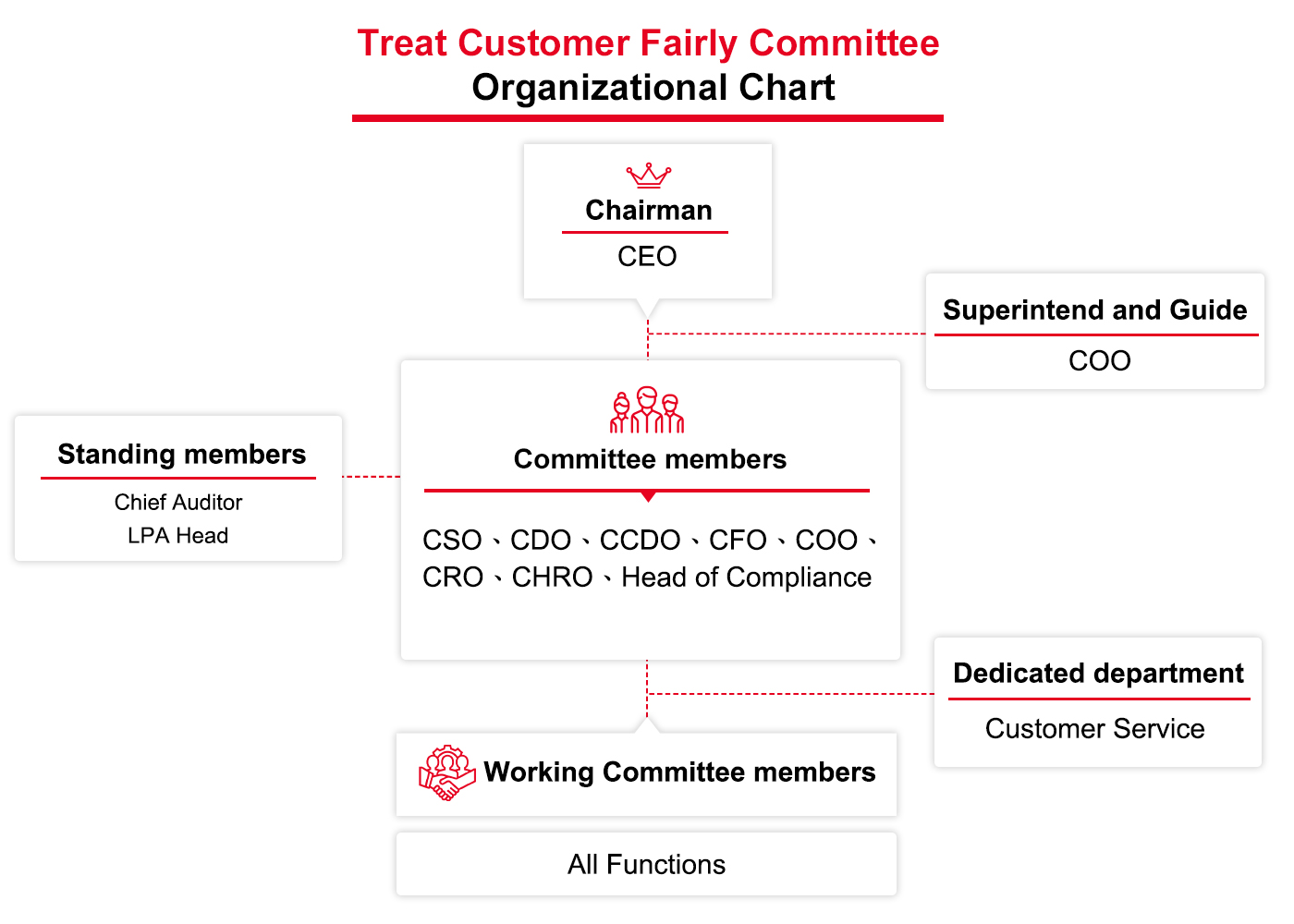 Implement the principle of treat customer fairly from the directors to all employees.
The board of directors values and actively leads the principle of treating customers fairly (TCF)
The PCA Life Assurance board of directors and senior management attach great importance to the protection of financial consumers, and take the following specific actions to promote the principle of TCF.
In the fourth quarter of 2020, directors and senior supervisors discussed the culture and practical spirit of TCF with the industry and academia in order to realize our commitment to treat customer fairly, truly control the risks of TCF to corporate reputation, and formulate relevant guidance.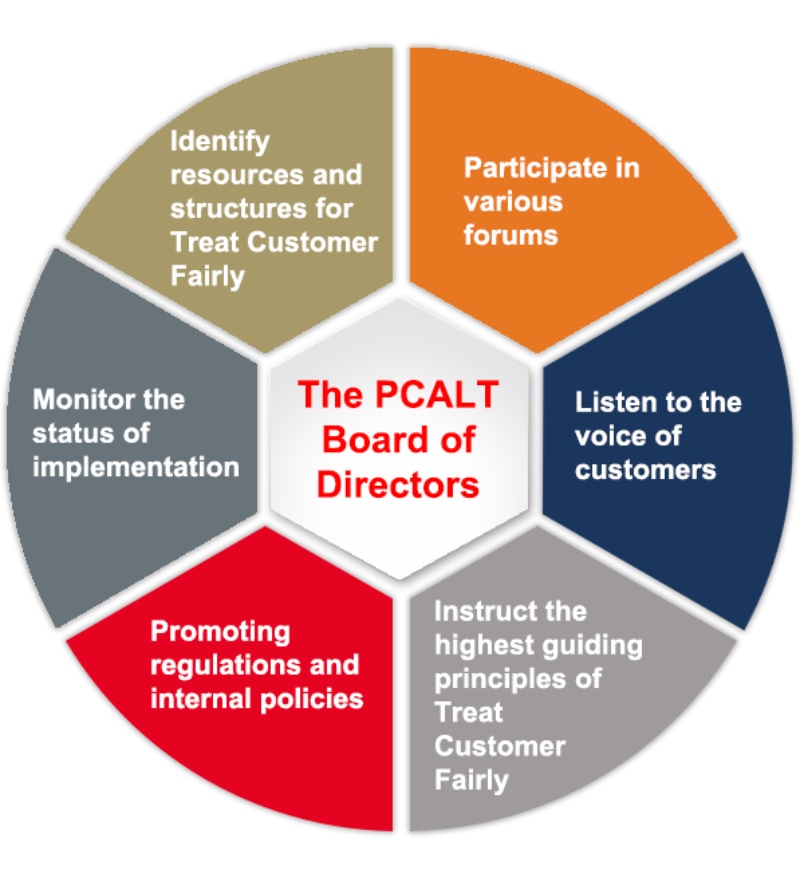 Guiding principle of TCF

from the independent directors
Principle 1. Understand the age and gender of customers and provide suitable products and services.
We design insurance products to meet the needs of customers from different ages and genders (such as children or retirees)

We value the right of our customers to choose the insurance that suits them. Strengthen the education and training of product applicability for employees to help them find suitable customers.

Our customer service staff explain to and assist customers in a way that they can understand. More than 90% of customers can get an immediate answer over the phone.
Principle 2. Practice customer-centricity, focus on customer needs, and provide customer satisfaction services with reasonableness.
In response to pandemic restrictions, we provide flexible measures to allow customers to purchase insurance products and enjoy various services without leaving home. We have also created convenient and paperless green financial services.

We are devoted to have customers receiving insurance benefits and cleanup of unpaid insurance payments of the year as early as possible.

We conduct satisfaction surveys monthly to actively understand customer needs and frictions and continue to track and provide solutions. The average customer satisfaction rate is 99%.
Principle 3. PCA Life Assurance treats people of different ages and backgrounds equally. For disadvantaged people, we especially provide necessary careness.
Treat all types of customer groups fairly without preset limits. If we encounter disadvantaged groups, we will evaluate them based on their personal circumstances.

Sincerely care about multiethnic

For the elderly or immigrant customers, we will slow down, adjust the volume, explain in simple words, and provide a caring and friendly insurance experience

We provide a toll-free dedicated line for claims, and provide dedicated services according to specific needs



Bilingual services in Mandarin and Taiwanese



For Taiwanese speaking customers, we will interact with them and explain product contents in Taiwanese, and provide cordial telephone interview service.